Back to: Brands - Abex - Modular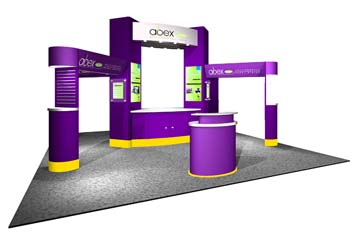 Abex Modular 600 Series Displays
The Abex 600 pre-connected fabric panels combine maximum durability with 360 degree panel movement to let you create unique custom shapes that set up quickly and easily. Whether you create an island display or a 10 foot exhibit, the Abex 600 will reinforce your marketing message with accessories such as lightboxes, backlit headers and display cases.
Inquire about this item
General Information
Abex Modular 600 Series Displays
Size / Measurements
Varies by design
Available Options
Many options to choose from including alcoves, pedestals, counters, headers, bridges, diffusers, lightboxes, slatwall and inlays.
The Abex 600 also offers a wide selection of fabrics to choose from.