Back to: Brands - Abex - Ultraform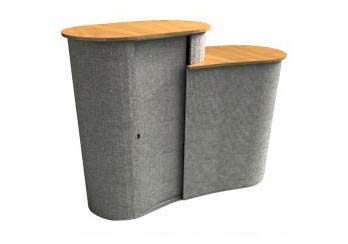 Ultraform ULKY105L UltraLite Multi-Cabinet
ULKY105L UltraLite multi-cabinet, kidney shaped with right or left extension. 48" x 18'' - 36" high with non-locking door. Curve fits all 8' and 10' pop ups. Packs in two PCB carry bags or packs one per UF4325 case.
Inquire about this item
General Information
Ultraform ULKY105L UltraLite Multi-Cabinet
Size / Measurements
Height: (36") - Width: (18") - Depth: (48") - Total Weight: 30 lbs
Available Options
Any color fabric or counter tops. Also available with graphic panels.