Back to: Brands - Featherlite - Frontline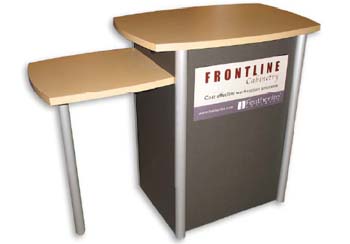 Featherlite Frontline Counter
The Featherlite Frontline Cabinetry is a flexible counter system with three different configurations. It can be incorporated into any exhibit by using your choice of laminate, and black or brushed aluminum accent trim.
Inquire about this item
General Information
The Featherlite Frontline System Cabinetry Counter
Design Details
Three different configurations available.
Custom Options
The Featherlite Frontline is a truly lightweight portable exhibit counter solution.