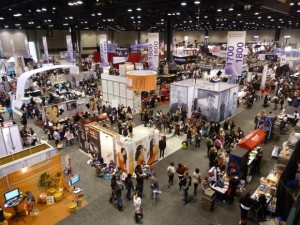 Even the most experienced trade show exhibitors will often hire a 3rd party expert to manage the paperwork, order forms and details to ensure a hassle free experience when exhibiting at a large trade show.
Unfortunately, there is not a universal set of rules, regulations or forms when exhibiting at trade shows. Each show will present unique challenges to decipher the "show book" and properly order services.
The following overview presents the steps you need to follow and the forms you will need to fill out when exhibiting at trade shows. We call it the anatomy of a trade show.
1 – Shipping
Shipping your exhibit and materials to a trade show almost always offers two choices. The first choice is to an advanced warehouse address and the second is direct to the show site. There will be advantages to each option that varies by show. For much more specific details on shipping freight to trade shows read our article titled: Inside Trade Show Shipping.
2 – Material Handling
Material handling is often referred to as "drayage."  This is a significant expense and varies greatly in different states. Other factors that determine the price can include the show's general contractor as well as if you choose to ship direct to the show or to the advanced warehouse. A typical rule-of-thumb when trying to budget trade show expenses is to average the expense at approximately $1 per pound. A sample material handling order form can be found here. 
3 – Flooring
Most trade show exhibitors rent their carpeting or flooring. All trade shows will offer the option to rent flooring directly from the show. There is an order form in the show book for this. There are many benefits to ordering your flooring direct from the show, but the cost is usually very expensive in comparison to other options. You can of course ship your own flooring to the show, but the cost to ship the flooring is just the beginning. You will also be charged for drayage to bring your flooring in and labor to install your flooring.  For a much more detailed overview of trade show flooring options read our article titled: Exploring Trade Show Flooring Options
4 – Electricity
The electrical order form is almost always separate from the main services order forms. These services come from a different union that is usually operated by the venue and not offered by the general contractor. Filling out this form will require a plan view of your booth space that shows how your booth is situated on the floor compared to your surrounding booth numbers. The cost for electricity is based on the amount of power (in watts) that you will require. Take a close look to see if there is an additional, separate form required to order labor to run your power distribution and connect your devices. Some venues include this cost in the price of the electricity and some charge separately.
5 – Labor
Labor rates and regulations vary greatly from State-to-State and even City-to-City. State and local laws govern regulations related to labor. Some states are "right-to-work" states which means that the exhibitor has a right to setup (and/or help in the process) their own display. We all heard the horror stories about Chicago, Boston, Philadelphia and others cities where an exhibitor is literally threatened by the union for trying to setup or help setup their exhibit. We have more on that topic in our article titled: Truths and Myths of Trade Show Labor. Labor order forms are based on the number of hours (per laborer) that you will need to setup and dismantle your display. You can also hire a 3rd party company that is in the local union and approved to work in the building. The cost per hour will most likely be exactly the same, but you will often find these companies are a little friendlier and easier to deal with. If you decide to hire a 3rd party you will have to notify the general contractor in advance and fill out a 3rd party authorization form. The form is often referred to as an "Exhibitor Appointed Contractor" form. More information on trade show union labor can be found on an earlier article titled: Truths and Myths of Trade Show Labor
6 – Hanging Signs
We all love hanging signs. These are the large circles, rectangles, squares and custom shaped graphics that get hung from the ceiling high above your exhibit space. Like most trade show details this will require additional rules and forms. Some shows will require that all hanging signs are delivered in advance prior to the rest of your display. Separate hanging sign labor and/or "rigging" order forms are usually required.
8 – Payment Authorization
All of the items and services you order will require payment in advance to accompany your order forms. You can fill out all of the forms and mail them in with a check or you can fill out the credit card authorization form and fax everything in. Keep in mind that the majority of the costs you filled out on the forms are just "estimates" and the show will charge you based on the "actual" costs before they will release your exhibit at the end of the show. The show will weigh your freight and have you sign your labor in and out to provide them with the actual numbers. You should expect to fill out at least two (GC and electrical) and probably more payment authorization forms.
9 – Accessories and Novelties
In addition to the required items listed above, exhibitors can order many more accessories and novelties from the show. These items will also require separate order forms and payments. Items can include furniture, floral, booth cleaning, lead retrieval equipment, internet service, food or coffee service, a host or server, photography, and in some cases even plumbing or natural gas lines. All of this and more is commonly offered in your show book. It's all of these items that can make the process of ordering show services such a daunting and confusing task.
10 – Checklist and Summary
In addition to the individual forms for services there is often a checklist or summary form that you will need to fill out. These checklists are helpful (when provided) because they will list the items we outlined above to help you ensure all of the required forms have been completed. However, the main checklist in usually incomplete and will not include the items that are not ordered from the general contractor. Electrical, hanging signs, and the majority of the accessories listed above may not be included on the checklist.
For more in-depth articles on exhibiting at trade shows please follow our Google+ page to be alerted as new articles are published.