There are some many options, regulations and budgetary considerations when choosing your trade show flooring that we decided to list and overview them in detail. When you reserve booth space at a trade show it does not include flooring. The most common flooring at trade shows is carpeting, but more and more exhibitors are opting for other surfaces such as wood, vinyl, printed graphics and even raised or light-up structures. Each option will have it's unique pros and cons. We hope this article helps.
1 – Traditional Carpeting
This is the most common trade show flooring. The majority of exhibitors simply rent their booth carpet from the show management contractor. The main advantage to this option is ease. The rental cost includes delivery to your booth and installation. In most cases your carpet will be installed before you or your exhibit properties show up. It is also common for the cost to rent carpeting direct from the show to be about the same (slightly more) as the combined costs of shipping, material handling (drayage) and installation of your own carpet.
However some shows can really overcharge for carpet rental and it is advised that you compare the costs from show-to-show. There are also 3rd party companies that offer very reasonable rates for trade show carpet rentals. These companies are able to reduce the shipping and installation costs by having inventory and workers in all the major trade show cities. Ask your exhibit company about this option. These 3rd party companies have partnerships with most major exhibit providers. This allows them access to more customers and multiple bookings per event.
2- Wood Flooring
It's extremely uncommon for show management contractors to offer any flooring options other than carpet. The most common non-carpet flooring used is wood. There are several options for wooden flooring. Everything from real wood, to composites and faux wood can be found on the show floor.
Real wood has a great feel and you can tell when it's real. Installing real wood however is very tricky and virtually eliminates the option of power distribution under the flooring. Some composite wooden floors come as an overlay on top of fabricated plastic tiles. The tiles will have grooves underneath to allow for power distribution. These are great options when the end result is more important than cost.
The newest option in wooden flooring is bamboo. Bamboo is real wood and due to the nature and flexibility of the wood itself it can be rolled up and rolled out the same way we use carpet. Another "roll-up" option for a wooden floor (look) is to use printed floor graphics as shown in our feature photo above.
3 – Printed Trade Show Flooring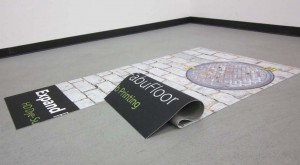 Technology has finally allowed for high quality and affordability to bring full-color, printed trade show flooring front and center as an option. Considering the high cost of floor space and the need for branding and messaging at your booth space, printed flooring can help you to extend your brand, deliver more messages and simply stand out at a trade show. Most exhibit providers now offer printed trade show flooring as an option. Choosing an experienced provider is important because most printed trade show flooring will ship in multiple pieces that alight to each other for a seamless look. Beware of the chance that seams will not line up perfectly. This can avoided by planning and quality control.
4 – Vinyl and Rubber Floors
Another option for trade show flooring is traditional vinyl, linoleum or rubber based flooring products. These options can make a visual impression while providing a little cushion for your feet. More and more companies realize the value in foot and leg comfort for the employees and visitors and are opting for rubber-based flooring options. These products can also be printed, but it is more common to have bright colors and patterns.
5 – Raised and Platform Flooring
A raised floor is surely the most expensive option, but it helps you to really stand out from the crowd. In addition to the visual advantages, raised flooring allows for complex wiring of power and data cables underneath. The advent of wireless technology has reduced the ROI for raised flooring to accommodate wire management, but it still makes a great impression.
Raised or platform floors can also accommodate lighting and light effects such as changing colors, flashing and strobe effects. The most common raised flooring options are large tiles with insert panels. The panel inserts can be any combination for wood, acrylic, carpet or graphics.
Additional Considerations
With any flooring option you have additional details to consider. With traditional carpeting there is the "thickness" of the carpet which is always referred to in ounces. The thicker the carpet the higher the ounce. Carpet will usually range from 13oz up to 50oz. Carpet padding can also be used to add comfort to your floor. Visqueen is an original brand name for the plastic sheeting that is commonly used to cover your flooring after it is installed. Visqueen will protect your flooring during your exhibit installation and is usually left on until a few hours before the show opens.